Simple mode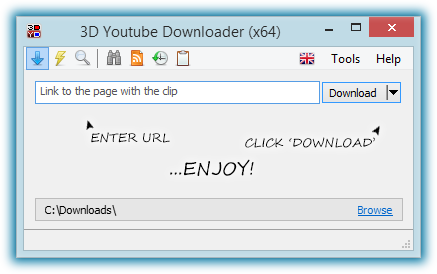 Intended for downloading clips in original quality. Automatically selects source media to download basing on current download target which can be selected through the menu of Download split button.
It provides several common download targets (best video, best audio, smallest file etc.) and designed to not require much user attention - download can be started in one click (using Use URL from the clipboard toolbar button).
If adaptive video and audio streams are selected to download, program will download both files and then mux them together into single file. Muxing does not mean transcoding or converting, i.e. quality remains the same (when any transcoding means quality loss because of converting one lossy format to another).
Split button consist of two parts. When clicked on the left part, program will start download of currently selected target. When clicked on the right part (split arrow), a menu enumerating possible download targets will appear: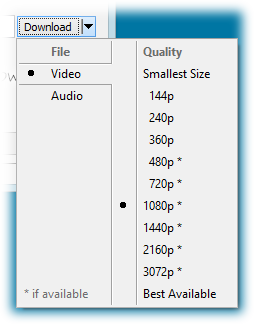 Select Video group if you want to download video file. Select Audio group if you want an audio file. I.e. Audio group is not for specifying audio quality within desired video, it tells the program to produce audio-only file as result of download.
About the rest of UI elements read topic Common UI elements.